Do you suffer from stiff joints or a weak or a painful back?
Are you looking to become stronger and more flexible?
Would like a total body workout but with no impact?
Then Yogalates, combining the flexibility of yoga and the strength of Pilates
is the ideal class for you.
Benefits of Yogalates: 
'core' spinal muscles are strengthened
posture and muscle imbalances are improved
back pain can be alleviated
risk of injury is reduced
a perfectly strong and aligned body is created
greater strength and muscle tone
improved flexibility and agility
strength, balance and coordination
a more efficient respiratory system
a healthy spine and improved posture
a flatter abdomen, toned arms and thighs and a stronger back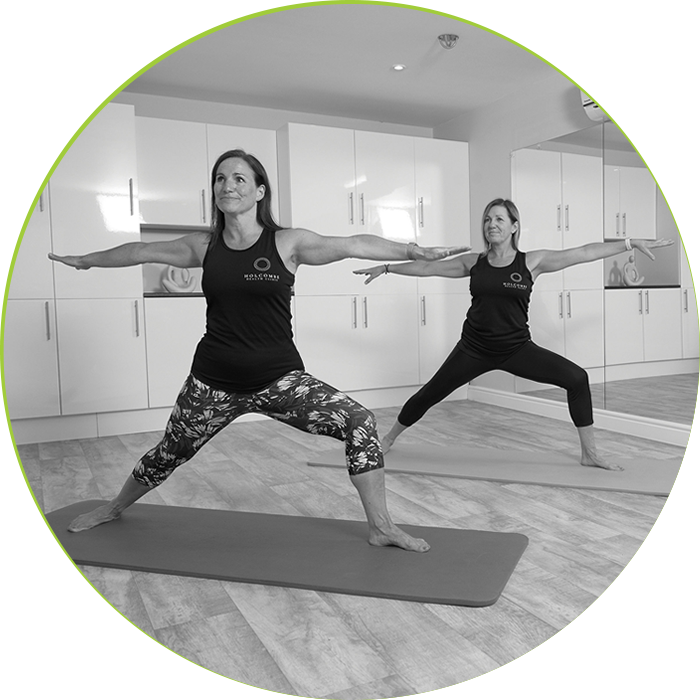 Who is Yogalates suited to? 
all body types and fitness levels from the highest performing athlete to individuals with a variety of health problems
What Holcombe Health Clinic offers 
Yogalates classes tailored to cater for a variety of goals:

to increase fitness and tone the body
to address back pain and injuries
to improve core stability for specific sports (tennis, golf, squash to name a few)
to counterbalance a stressful lifestyle
to improve posture and flexibility
Designed by our very own Lou Hayes, Chartered Physiotherapist, the Yogalates classes comprise:
fun Yogalates classes with a clinical approach to educating you in optimal functioning for life and sports
each class led by one of our two lovely instructors, Lou and Lisa