Kinesio taping
In 2004 the UK witnessed the introduction of an injury taping method, known as Kinesio taping. Developed in the 1970s by Dr. Kase, this method of taping was found to help in the healing of traumatised tissue and muscles. Unlike traditional taping techniques, such as athletic taping and strapping, Kinesio taping supports the muscles, joints and fascia without reducing range of motion. It is also thought that Kinesiology taping could have benefits for the lymphatic system.
Our therapist is a fully qualified Kinesio taping practitioner who will assess your injury and advise you on the best taping to support and help the healing process.
Benefits of Kinesio taping: 
allows range of motion and does not restrict like conventional athletic tape
tape offers elastic properties to help to support and reduce muscle fatigue
can be worn for several days (3-5) without re-application
cost-effective patient management (6-10 applications per roll)
100% cotton and latex free
elasticity of up to 30-40% from resting length
applied with 10% stretch
medical grade, heat sensitive acrylic adhesive
allows the skin to breath
thickness and weight similar to the skin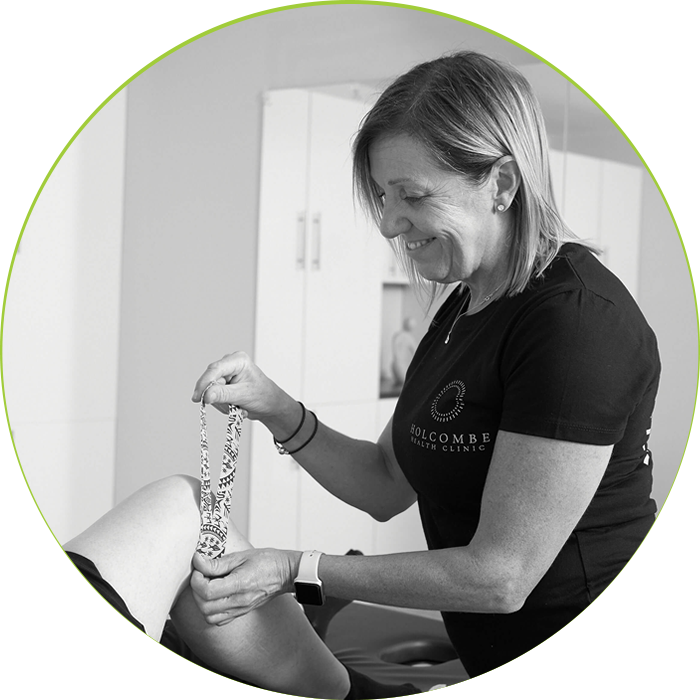 Dynamic taping 
Dynamic tape is a biomechanical sports and therapeutic tape, an innovative, strongly elastic 4-way stretching tape developed by an Australian musculoskeletal physiotherapist, used in the treatment of many sporting, musculoskeletal and neurological conditions. It allows the wearer to move through full range of motion without limitation but with strong biomechanical assistance. Dynamic tape strapping provides resistance while lowering the amount of load absorbed through the relevant area, reducing wear and tear on the wearer's body. The high quality fabric is extremely breathable, soft to touch, long lasting and very comfortable.
The tape works by being applied in such a way that it mimics the action of the injured muscle or tendon. It is placed on the body with the muscle or joint in the shortened position and with stretch on the tape so that as the muscle or joint lengthens, the tape is stretched further, thereby absorbing load just as a bungee cord decelerates the jumper. This reduces the eccentric (lengthening) work of the muscles.
Once full range is reached and as the muscle or joint begins to shorten, the absorbed energy is reinjected back into movement, thereby assisting the concentric (shortening and contracting) action of the muscle, resulting in decreased workload, reduced metabolic demand and improved tolerance to fatigue.
Reducing load may result in less pain, better healing (can load sooner resulting in functional stress and better scar formation), improved endurance and performance. Dramatic improvements in circulation and lymphatics have also been observed.