It's time for me to bring myself into the 21stCentury…blogging is apparently, the only way forward!
So, Holcombe Health Clinic is nearly one year old in its new format.
We have grown and evolved so much in our first year of practice and it's been a very exciting journey. We've gone from being a clinic only offering physiotherapy and sports therapy to a clinic offering a variety of alternative therapies, including women's health, baby massage and yoga classes, personal training, reflexology, nutritional therapy, hypnotherapy, kinesiology, sports massage, beauty therapy, foot care and clinical beauty therapy.
We offer a friendly, professional and welcoming environment for all who walk through the door. Customer satisfaction is our goal and we are constantly told how lovely the clinic is and how happy our clients are with our service. Happiness is our favourite word!!
So, this is the first of regular blogs about Holcombe Health Clinic…so, please tell your friends, family and anyone you come across, share and whatever else you can do with social media (I'm sure this is a journey I'm going to learn plenty from!!!!) I hope to educate you, interest you, learn about you and hopefully entertain you!!
Physiotherapy Education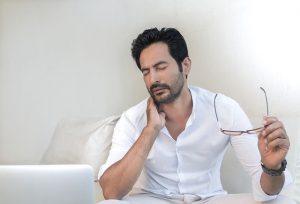 Let's start with some physiotherapy education, as this is what I know and love….
So, have you heard of text neck??? Not yet? Well, you will do, in fact, you have probably already had it, got it, or definitely know someone who has had it.
So, what is it, I can hear many of you asking…well, you know how we spend a large majority of time nowadays, either on your hot phone, your indispensable tablet or hunched over your steaming laptop/keyboard, having already spent hours over your steering wheel if you've had the unfortunate experience of parking, sorry driving, on the M25!
Well, the act of all the above will involve you bending your head forward from the upper part of your back. You may have experienced an aching, neck, headaches, stiff upper back, well, it's possible it's developed from the modern day phenomenon "text neck".
All of this sounding a little familiar? So, why not pop into see us and we can advise you what you can do to alleviate your symptoms.
In the meantime, buy a foam roller, available on amazon for about £10, and try the following exercise to loosen your upper back. It may hurt a bit, but remember, short term pain, long term gain!
If you would like an appointment please contact us here:-