Electrolysis and blemish removal
Giving you the skin to be happy in; when you look good, you feel good
CALL 0203 332 0296
Deborah Jones
info@positive-pathways.co.uk
0203 332 0296
Deborah has over twenty years' experience as a hands-on therapist, Lecturer and also an author of Electrolysis The Business. Helping people with something as common as skin tags, warts or unwanted hair can make a huge physiological difference, and this is the reason why Deborah is so passionate about electrolysis. You are in safe hands when looking for an advanced practitioner with Deborah's constant commitment to client well-being giving hope to anyone suffering from unwanted facial hair, with the permanent hair removal solution offered. She keeps up to date with the latest skills and maintains a very high standard with her knowledge and expertise second to none.
Electrolysis
There are 3 methods of electrolysis to choose from in order to tailor your treatment to your skin type and reaction, and all 3 are capable of permanently removing hair. They are:
Galvanic
Thermolysis (is also called Short Wave Diathermy or RF diathermy in some countries)
Blend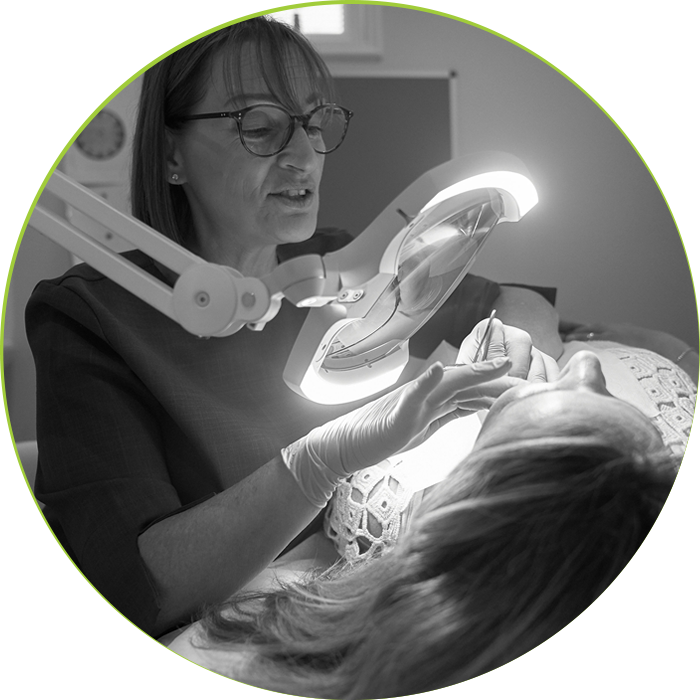 How does electrolysis work?
Insertion of a very fine, disposable, sterile probe (the same diameter as the hair) into the hair follicle, which is a natural opening in the skin. A tiny amount of energy (electrical current) is then discharged into the hair follicle. The only sensation felt is the heat at the tip of the probe. The follicle is destroyed by heat (with thermolysis) or a chemical reaction (with galvanic) or both blended together (with the blend).
How many electrolysis sessions will I need to clear the hair completely?
The number of treatments required will vary from person to person, there is no estimation given. The process is dependent on your commitment to attend regularly.
What part of the body can be treated with electrolysis?
Electrolysis can be used on any part of your body where there maybe unwanted hair, areas include all facial areas, legs, bikini line, chest, nipples, back, abdomen, underarms, fingers, toes and eye brows.
Blemish removal
Advanced cosmetic procedures
Electrolysis is commonly known for unwanted hair removal, however now becoming increasingly popular for treating the following conditions.
Here is a list of all conditions that can be treated with advanced electrolysis (ACP)
Thread veins
Age Spot Removal
Xanthelasma
SkinTags
Milia
Warts
Seborrhoeic Keratosis
Dermatosis Papulosa Nigra
Campbell de Morgan (red blood spots)
Hairs from moles ( with doctors letter to confirm the mole is safe to treat)
For further information on the treatments, please visit