Deep tissue massage is a type of massage aimed at the deeper tissue structures of the muscle and fascia, also called connective tissue. Deep tissue massage uses many of the same movements and techniques as Swedish Massage, but the pressure will generally be more intense. It is also a more focused type of massage, as the therapist works to release chronic muscle tension or knots (also known as "adhesions.")
It is a specific type of massage therapy that concentrates on the deep layers of muscle and fascia in the body. By using deep finger pressure and slow, firm strokes, deep tissue massage is used to treat a variety of physical ailments. Many doctors recommend deep-tissue massage to their patients as a treatment option because of its benefits.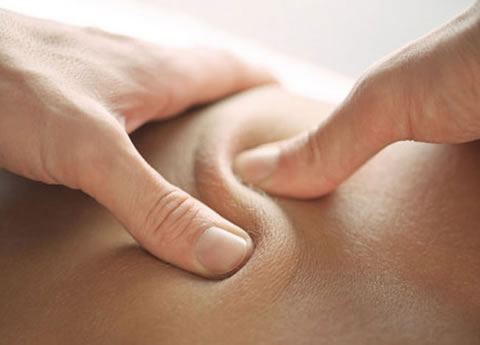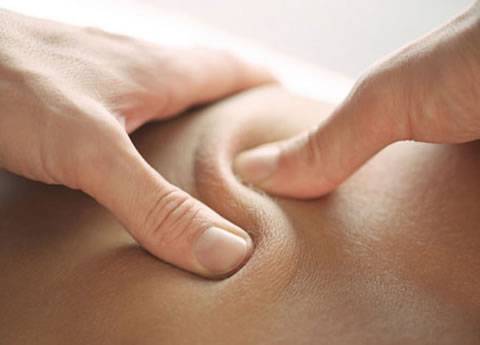 Because deep-tissue massage increases the flow of blood through through the body, it helps reduce the inflammation that causes pain. Deep-tissue massage can also help alleviate muscle tension that is often a side effect of chronic pain by loosening the tight tissue clusters.
Deep-tissue massage can help ease stress and tension, which can have a beneficial effect on blood pressure and it can help increase the body's production of serotonin, the hormone that promotes happiness and good feelings.
Over time, deep-tissue massage therapy can help break up and eventually erase scar tissue in the body. It does this by improving lymphatic circulation and drainage to improve flexibility and range of motion in the affected area.
Scar tissue is often associated with ongoing pain and stiffness, so deep-tissue massage can improve these symptoms. Massage therapy is often recommended for people who are recovering from surgery.
Deep-tissue massage can be an effective treatment for injured muscles. Because it facilitates the movement of toxins from the muscles and helps stretch tight or twisted muscle mass, deep-tissue massage can help promote healing.
Because massage also helps relax muscles, it can reduce the pain caused by injuries, too. Deep-tissue massage is frequently used to rehabilitate sports injuries.
Will a Deep Tissue Massage hurt?
It shouldn't hurt, but it's likely to be a bit more uncomfortable than a classic Swedish massage and can sometimes cause discomfort, however the therapist works with the client's tolerance levels and you should always feel free to speak up if the pressure is too much for you.
It's important to drink a lot of water after a deep tissue massage to help flush lactic acid out of the tissues. If you don't, you might be sore the next day.
It's possible that you might feel some soreness the day after a deep tissue massage even if you DO drink water. This just means a lot of waste products were flushed out of the tissues. It should pass within a day or so.
It's important to be realistic about what one deep tissue massage can achieve. Many people ask for more pressure, thinking that if the therapist just pushes hard enough, they can get rid of all their knots in an hour. This just won't happen.
In fact, undoing chronic knots and tension built up over a lifetime is best achieved with an integrated program that includes exercise, work on your posture and ways of moving, relaxation techniques and a regular program of massage.